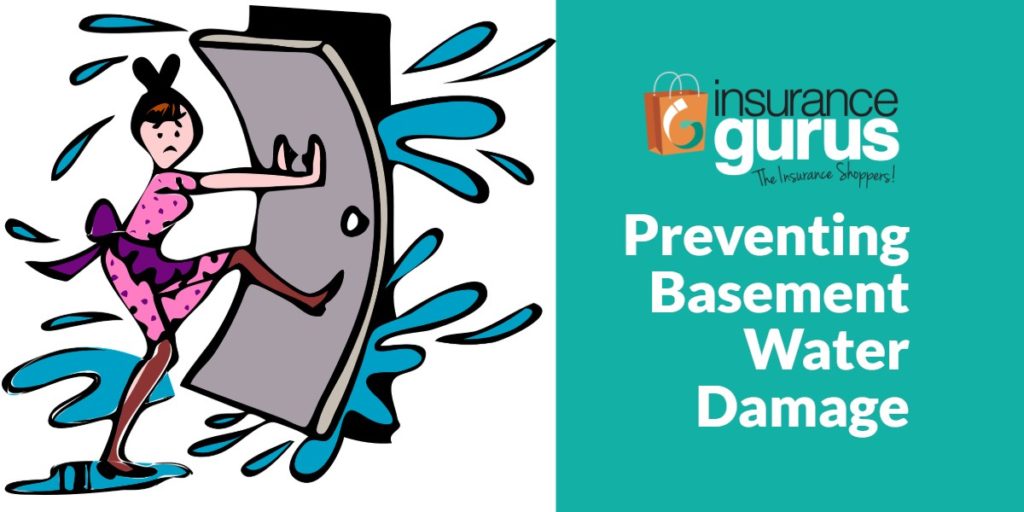 It's been said, an ounce of prevention is worth a pound of cure. If you ever had to deal with the clean up and reconstruction from water damage you'll appreciate that advice. A wet basement may or may not be covered by your homeowners insurance.
Are wet basements covered by home insurance?
It depends on the source of the water and the optional coverage you purchased on your policy:
If water seeps through your basement walls, floors or windows, that is considered a flood. Floods are excluded (not covered) on homeowners insurance.
If water backs up from a drainage system, such as a floor drain, sewer line or a sump pit, the damage COULD be covered but only if you have optional water and sewer backup coverage added to your policy. Due to the frequency of these claims, the cost of this coverage continues to increase.
Damage from plumbing leaks, burst pipes and water overflowing from sinks and tubs is generally covered on your base home policy. It is all subject, of course, to the terms and conditions of your policy.
Even if insurance does cover the cost of the damage, you will still have to pay your deductible (usually $1,000 or more) and deal with the disruption, mess and paperwork of getting everything put back as it was before. In most cases you will also face increased home insurance premiums for the next three years. Therefore, prevention is a much better way to go!
Early detection is key to prevention
Fortunately, most water damage losses are avoidable. Here are some tips to help protect your home better.
Consider replacing your sump pump regularly. I have customers who replace their sump pump every 7-10 years to avoid having it fail at an inopportune time. Sump pumps are relatively inexpensive, some are less than $100.
Have a backup power source. A major reason for many sump pit overflows is a loss of power, especially during a storm. Battery backups are the most common. There are also sump pumps that can run off your water pressure for backup power. Emergency generators are another option.
Water detectors. These are inexpensive and effective at giving you an early warning for trouble.
For around $11 you can get a simple device that works like a smoke alarm, setting off an audible alarm when water is detected under it.
Internet connected water detectors send an alert to your smart phone when it detects water. The advantage of this system is it can alert you even when you are away from home.
Water detectors should be placed in potential problem areas such as near your sump pit or floor drain to give you early warning. You can buy multiple units around your home, wherever water leaks can appear like under sinks, dishwasher or waterline to your fridge.
Insure your home for the big disasters but be proactive to prevent them in the first place. That's the best emergency plan! Insurance Gurus represents several top-rated insurance companies. Ask for a free review of your homeowner insurance today.