Insurance tips when renting a car
Probably the most common question I'm asked as a local insurance agent is, "Should I buy the insurance from the rental car agency or just use my auto insurance policy?" Which coverage should I get and under what circumstances can I more comfortably decline coverage? Let's get right to my answer first and the reasons why later:
My opinion is you should accept the Collision Damage coverage (which covers physical damage to your rented vehicle), even if you have full collision and comprehensive coverage. You may decline the other optional coverage (see descriptions below) provided of course your auto policy has adequate limits for liability, medical payments and roadside assistance, see descriptions below. You should carry adequate liability limits on your auto policy. I took an insurance class while in college in the early 80's. The instructor said always carry the highest liability limits offered as it doesn't cost a lot more and can protect you a lot better if you're in a big accident. There is no limit on how much you can sued for. That advice still rings true today!
Let's say you do have so called "full coverage" insurance, meaning liability plus physical damage coverage, on at least one vehicle you own. Isn't damage to a car you rent for short-term use covered under your collision and comprehensive coverage anyway? Why should you pay extra at the rental agency for a Collision Damage Waiver?
When you sign the contract at the rental agency, you are accepting responsibility for any damage to that vehicle that occurs while it is in your care custody or control. That's why you do "a walk around" with the rental agent before and after you rent your car. Damage isn't limited to just an accident as you are also responsible for hail damage, door dings, rock chips and any other damage that could occur.
Yes, your auto policy's collision and comprehensive coverage can cover this types of losses to a rental car however there are a few coverage gaps which you should be aware of:
Loss of Use – The rental agency can charge you back for the time the vehicle was being repaired and out of use as a rental car.
Diminished Value – If the car was damaged and repaired the rental agency could demand you pay the difference for the value of the car that's been repaired vs. the same car value had it not been in an accident.
Administrative Fees – The rental agency could charge you back for their time spent on dealing with the vehicle's repairs including talking with the claims adjuster from your insurance company.
If the above items are not covered on your owned vehicle, they won't be covered on a rented vehicle either, leaving you to pay out of your own pocket. Even if your auto policy does cover these type of losses (and some policies can), you would still be responsible for your deductible amount, which is typically the first $500.
The collision damage waiver can cover all physical damage (subject to the conditions of your policy) to your rented auto and without a deductible. I understand that rental agencies in some states may offer a cheaper version of collision damage waiver that does have a deductible, in which case I suggest that you get the no deductible option.  There's also the convenience factor of not having to go through your insurance company for the claim.
Does an accident on a rental car go against my driving record?
Some people think that if they have an accident and the claim is paid by the rental car coverage rather than by their personal auto insurance, the accident will not show on their driving record. This may not be the case. Insurance companies check your Motor Vehicle Report (MVR) which is generated from police reports included violations and accidents. Insurance companies also run a Clue report. Clue is a database to which insurance companies report their claims. Even if you don't report the accident to your insurance company, it could still show up on your MVR if there was a police report.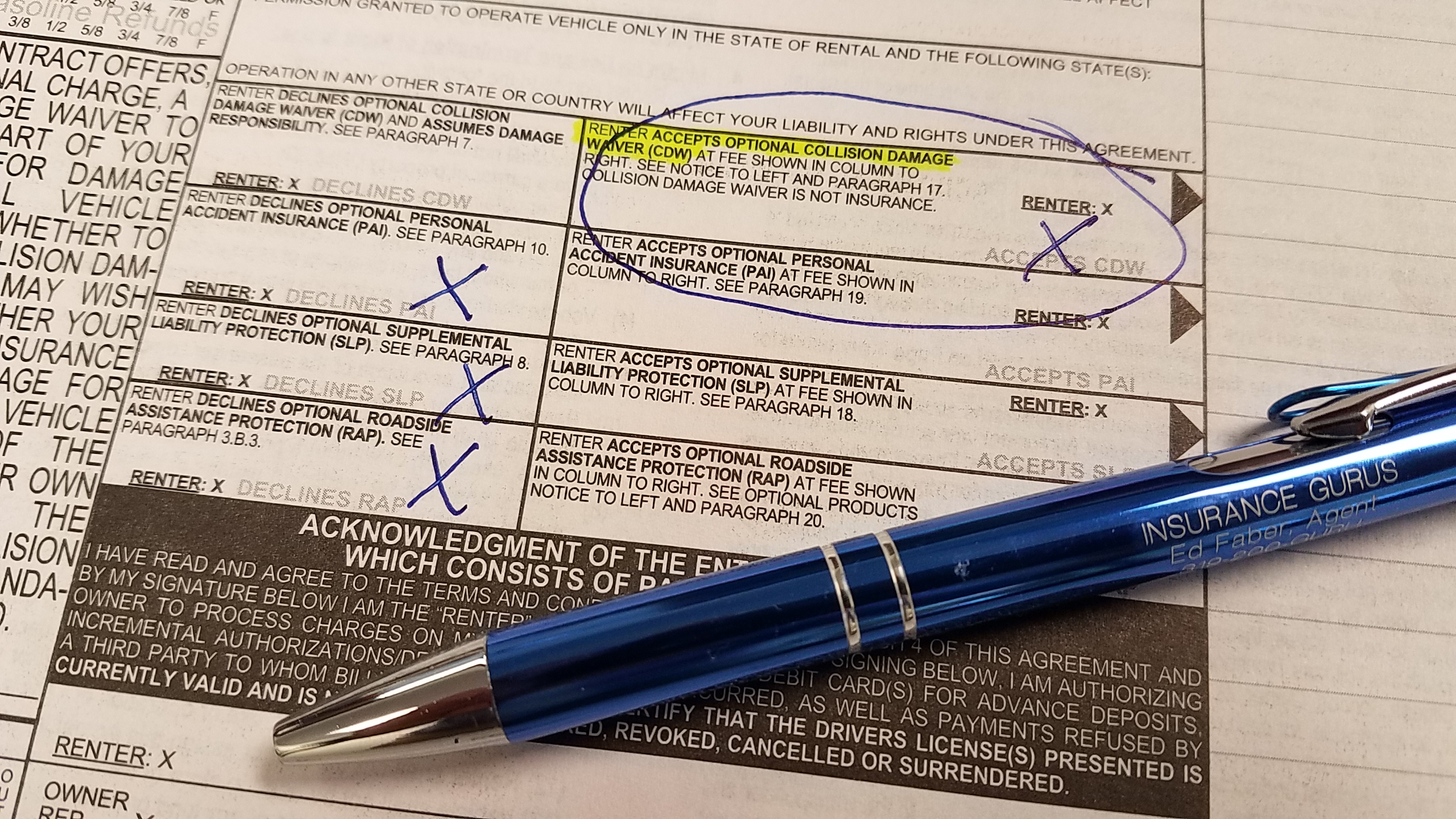 Below is a general description of typical coverage options offered by rental car agencies. See your rental car contact for specific information for your vehicle.
Common coverage options offered by car rental agencies:
Collision Damage Waiver (CDW) About $18/day*

Similar to your auto policy's Collision and Comprehensive coverage.
This can cover damage to your rental car. Don't let the word "waiver" throw you, this is good coverage to have.
Usually no deductible.

Personal Accident Insurance (PAI) about $3/day

Similar to your auto policy's Medical Payment coverage.
Can cover the costs of your own medical expenses due to a covered accident in your rental car, up to the policy's limits.

Supplemental Liability Protection (SLP) about $15/day

Similar to your auto policy's liability coverage
Can cover bodily injury and property damage to others which you are liable for. Note this does NOT cover the rental vehicle. See rental contact for limits of liability.

Roadside Assistance Protection (RAP) about $5/day

Similar to roadside assistance or towing coverage you may have on your auto policy.
Can cover cost of towing, lock-out service, lost keys and other roadside services.
*Rates stated are for examples only. Quoted from Enterprise in Cedar Rapids, IA, 2016.
The policy language on your personal auto policy is usually more comprehensive with fewer exceptions or coverage gaps when it comes to your liability and medical payment coverage. Therefore, you can more comfortably decline the SLP (liability), PAI (medical) and RAP (roadside) coverage options when you have adequate coverage on your personal auto policy.  AAA auto club for example, give you roadside coverage in any auto you are traveling in, not just the vehicles you own.
Additional car rental tips:
Your auto policy does not cover you in most foreign counties. Auto policies generally only cover you while driving in the US and Canada. Check with your insurance agent if you have any coverage in the counties you'll be traveling in. In this case, it may be best to accept all the coverages offered, including SLP and PAI.
Don't assume your auto policy coverage covers damage for any and all rented vehicles. Most auto policies exclude all physical damage to larger vehicles such as moving trucks, large passenger vans and other commercial vehicles. Check with agent if you are renting something other than a passenger car. To learn more about your auto coverage, contact your local insurance agent.
Disclaimer:
The views and information in this blog are the opinions of the author, given for general educational purposes only, not to provide financial or legal advice. Policies and regulations vary by company and by state. Please consult your insurance agent and policy for your specific situation before making any insurance decisions.