Everyone knows that car insurance rates can vary by driver and vehicle as well as risk factors like driving record, vehicle use and mileage. But did you know that you can pay different rates depending on what part of Cedar Rapids you live?
Recently, a customer moved from one Cedar Rapids zip code to another. With no other changes, their auto insurance rate increased by $100 over the 6-month term. I thought it was unusual for such a large difference within Cedar Rapids and was curious how much your zip code affects your auto insurance rates. Using the same customer, I checked rates in each zip code in the metro area and here are the results: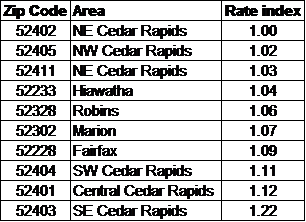 Note: an index of 1.02 means this zip code is 2% more than the 52402 zip. This example was checked on Progressive. Each carrier sets their rating factors with approval from the Iowa Insurance Division who regulates insurance rates in the state of Iowa. Therefore, it's important to note other carriers will not have the same rate differentials for the same zip codes.
In this example, the driver would pay $231 more in the SE Cedar Rapids zip code versus the NE zip code. I would've expected a large rate differential when moving to another state, as Iowa on average has some of the lowest auto insurance rates in the nation.
Why do auto insurance rates vary by location?
Insurers keep claims data by zip code. Those areas with higher rates of losses (insurance claims) will pay more than those with lower rates of loss. A higher number of accidents can lead to increased liability and collision coverage rates. Similarly, more losses from storms, deer strikes, vandalism or theft can lead to paying higher premiums for comprehensive coverage. For example Oklahoma has more severe wind and hail storms than Iowa does. Therefore you'll pay more there for comprehensive coverage, which covers such loses, than in Iowa due to the increased risk.
It surprised me how much just moving across town, or in some cases just across the street, can affect your auto premiums!